challenging and successful – that was 2021 for DMG MORI. The effects of the corona pandemic on almost all areas of life were again unprecedented. We mitigated the economic consequences of the pandemic to a considerable degree. We were able to solve the global supply shortages for the most part with a close, personal exchange with our partners and suppliers. In challenging times, we demonstrated financial strength, resilience, innovation and team spirit. Our strategic fit of automation, digitization and sustainability is currently more suitable than ever. DMG MORI offers holistic, integrated solutions from a single source – always with the focus on our customers! We innovate and open up completely new business areas. We are investing in new production plants and increasing our global presence. 2021 has shown one thing: DMG MORI has the people and the courage to actively tackle changes!
Business development has increasingly improved over the course of the year. We were able to raise our forecasts several times – and in the end even slightly exceeded them. Order intake grew by +57% to € 2,517.2 million. New machine business in particular enhanced significantly by +71%. Overall, the core business with machine tools and services was even +5% above the high pre-corona level of 2019. Sales revenues went up +12% to € 2,052.9 million. With consistent measures we significantly improved our results and sustainably optimized our cost structure further. EBIT increased by +52% to € 123.8 million. The EBIT margin improved to 6.0%. The financial position also developed very positively: free cash flow rose to € 179.9 million and thus reached an all-time high.
Our key figures show: DMG MORI is well positioned. We are on course. Above all, this is also an expression of the outstanding commitment of the more than 12,000 employees in the "Global One Company". Our thanks go to them – as well as to our more than 100,000 customers all around the world.
We have become more innovative, more digital and more resilient. Holistic sustainability in machine tool manufacturing – from raw materials to recycling – as well as a unique future architecture for networked solutions consisting of machine, automation and digitization: DMG MORI is setting standards across all industries. Here applies: The machine is and remains our core! Holistic automation solutions and digital innovations expand our core business with machine tools.
Already since 2017, DMG MORI has been pushing five important future fields that still remain up-to-date and are firmly anchored in our corporate strategy. With dynamic and excellence, we are actively pushing our strategic fit of automation, digitization and sustainability, as well as Additive Manufacturing and the DMG MORI Qualified Products (DMQP), and are consistently developing further into a holistic, sustainable solution provider in the manufacturing environment. At the same time, we are optimizing five other strategically important pillars for excellence: "First Quality", service and technology excellence, the ERP project "GLOBE" and our highly qualified employees.
Automation is the key to more efficiency, more productivity, even faster amortization – and thus leading to greater competitiveness of our customers. Our innovative automation portfolio with 57 products includes machine-specific, universal and scalable solutions up to DMG MORI central control computer technology for workpiece, pallet and tool management. Machine, automation and technology – everything from a single source.
Digitization is one of our strategically most important future fields, in which we have been consistently investing for years. The corona pandemic has also significantly raised awareness for digitization among our customers. DMG MORI is regarded as an "enabler", as a digital pioneer in machine tool manufacturing. Being a technology leader, we also take responsibility here and implement digitization internally in our own production plants as well as externally at our customers. With an open DMG MORI digital architecture, we offer our customers easy access, maximum innovation and flexibility – and that with a comprehensive portfolio of digital products and services along the entire process chain: from planning and work preparation to production, monitoring and service.
Dear shareholders, in my inaugural speech as Chairman of the Executive Board in 2016, I provocatively asked: How will DMG MORI become the Netflix of mechanical engineering? Today, I am proud to say: with PAYZR (Pay with Zero Risk) we successfully entered the "Subscription Economy" – the world of Software-as-a-Service and Equipment-as-a-Service – in 2021. With PAYZR, we implemented a completely digital business model in the reporting year. Our customers receive exactly what they need in these demanding times of digital reorientation and future orientation. They benefit from fast innovation cycles without risk – with maximum planning security, cost and price transparency and full flexibility. Subscription & All-In instead of investment and purchase.
Sustainability has been part of the DNA of DMG MORI for many years and runs as a common thread through all our corporate activities. We assume global and holistic responsibility for resources along the entire value chain. Sustainability is firmly anchored in all structures and processes. Because doing business successfully means doing business sustainably. At DMG MORI, sustainability and technology leadership have been in harmony for many years.
We have already achieved a lot – and created our own "DMG MORI GREEN ECONOMY": Our manufacturing solutions are high-quality, durable, recyclable and maximally efficient – for example through technology integration as well as comprehensive automation and digitization solutions – which preserves resources, the climate and the environment. The trend towards sustainability is therefore a huge opportunity for DMG MORI.
For us, resource-efficient machine manufacturing is already a lived reality today. Through our climate triple "Avoid – Reduce – Compensate", DMG MORI has both a CO2-neutral "Company Carbon Footprint" and a climate-neutral "Product Carbon Footprint". This includes direct and indirect emissions from our own value creation as well as indirect emissions from upstream processes along the supply chain (scope 1, 2 and 3 upstream). All machines delivered since January 2021 are produced completely climate-neutral.
But sustainability means much more: In addition to environmental and climate protection, we promote and demand diversity and equal opportunities. We pay attention to compliance in all respects and implement all applicable laws and guidelines. We focus on the satisfaction and health of our employees. We are committed to the common good with donations and various campaigns.
Dear shareholders, I am firmly convinced: with our high-precision, sustainable machine tools and holistic technologies, we make a decisive contribution to improving the lives of generations.
DMG MORI has been awarded the Platinum Medal in the Sustainability Rating by the internationally renowned institute EcoVadis. This means that we are among the top 1% of over 35,000 companies evaluated worldwide. The CSR rating includes the categories environment, labor and human rights, ethics and sustainable procurement. DMG MORI will continue to be a role model and to create value and innovations – for people and the environment.
Additive Manufacturing is without alternative. As a full-liner for additive manufacturing processes, DMG MORI is the only manufacturer to offer the complete process chain – from design, through additive manufacturing of complex components, to post-production cutting.
In our future field DMQP (DMG MORI Qualified Products), together with over 120 DMQP technology partners worldwide, we currently offer our customers more than 4,000 DMQPs for the perfect synergy of machine, machine components, peripherals and accessories – all from a single source.
With our "First Quality" strategy, we drive numerous initiatives along the entire value chain to satisfy every customer 100%. From our machines, our customers expect efficiency, accuracy, reliability, durability. In short: excellent quality.
Service Excellence is a top priority at DMG MORI and more than 1,500 experts work on it day after day. We bundle our know-how in 17 Technology Excellence Centers. Over 800 application engineers are involved in our customers' development processes from an early stage.
With the business and IT transformation project GLOBE (Global One Business Excellence), we are creating an ERP platform based on SAP S/4HANA that standardizes our internal systems and processes. We also understand digitization as an opportunity to significantly increase internal efficiency.
Dear shareholders, the corona pandemic has further strengthened the team spirit at DMG MORI. I am proud of what our employees achieve! Their extremely dedicated, passionate commitment all around the world has also inspired me in 2021. It is exactly this spirit that I value so much and that makes DMG MORI a remarkable company. The close cohesion is based on TOP-Werten: Trust, Openness and Passion.
The past year has once again shown that DMG MORI is a stable and reliable partner even under difficult external conditions. And we have reason enough to look ahead with confidence. We have a strong foundation and a clear strategic plan for the future. 2022 will again be marked by major challenges, in particular due to the Russian military action against Ukraine, of which the consequences are not yet completely foreseeable at present. The corona pandemic, more difficult material supply, increasing logistics shortages as well as high raw material and transport costs and rising inflation will also accompany us for quite some time. Thanks to our consistent cost and supplier management as well as comprehensive health protection measures, we will also master these challenges.
For the current financial year, we are planning order intake of around € 2.5 billion. Sales revenues are estimated to be around € 2.3 billion. EBIT is expected to be around € 180 million. Free cash flow is forecast to be around € 130 million. Our forecasts are subject to the condition that globally there will be no further impact from the Russia-Ukraine conflict.
You see: DMG MORI is keeping up a high speed – both operationally and strategically. We innovate and invest – we continue to align ourselves for the future. With a new production plant for 5-axis milling machines, we are expanding our global presence in China – the world's largest market for machine tools with high demand for high-tech machines. In Egypt we are also opening up an important market with high demand for future technologies through the company GEMAS.
We want to be the world's most attractive machine tool manufacturer with digitized and sustainable products! We empower our customers – in manufacturing and digitization! This is our vision-mission statement. With our TOP values, an excellent team, our valued customers and strong partners, we will continue our growth course. Accompany us! Progress through sustainable technology – that is what DMG MORI stands for.
Dear owners, I would like to thank you personally and on behalf of the Executive Board team and all employees for your trust. Especially in difficult times, loyalty, constructive support and confidence are invaluable. Together we will continue to be successful in the future with energy and determination.


Yours sincerely,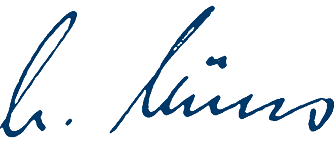 Christian Thönes
Chairman of the Executive Board
Bielefeld, 14 March 2022